WELCOME TO VERKA FAMILY 🙂
Verka Foods A New Age FMCG Company
Verka Foods is a leading data and tech-driven canadian company that is guided by Verka values and principles to drive imagination, velocity, efficiencies, and achieve scale in our business.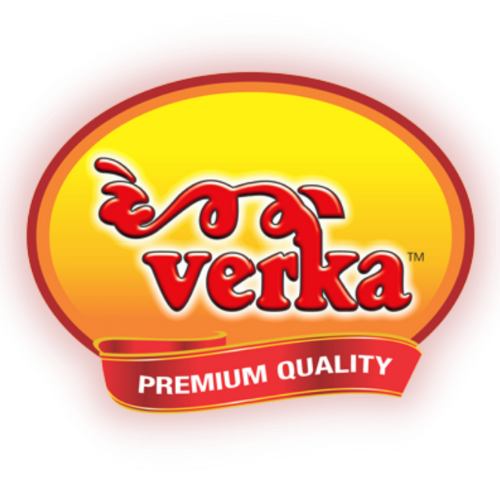 Global Leadership
Verka Foods is driven by top-quality products that have been built upon decades of expertise. We are committed to setting the standards and exceeding.
Diverse Portfolio
We are Canadian Largest food Importer and Manufacturer of Indian Asian ethnics with considerable presence in home, personal care, and beauty categories.
Data Science
Our Hi-tech automation and real-time customer data allow us to understand deliver frequency, understand repeats, create promotions and alerts of our customers.
Digital Distribution Network
Our local and global scales gives us the power to effectively service modern retail-led distribution model for all our brands.
Purpose
All around the world, globalization blur the line between taste and location. Now consumers are allowed to choose what they have been using in their entire life without compromising with quality and taste. That's why, at Verka Foods International, we empower people to choose their Indian Ethnic food internationally without compromising on taste and quality. This is our Purpose.
Every day, we are inspired to go the extra mile to lead the future of Indian Ethnic Products around the world. We do this by offering Purity and Compassion in our product at the right moment that are made in the right way.
From our passionate makers and bakers to your cooking moment in Kitchen, Verka Food knows how to fulfil trust in right way and product.
Vision
We are building a consumer-centric Verka Brand that is led by Purity, Quality and a digitally-enabled distribution network.
Our real time Data science gives us insights on consumers taste and demand across categories and enables us to respond to their needs and requirement with agility.
Verka Foods data allow us to engage and build experiences to excite consumers at the point of purchase and beyond with instinctively consumer choices at stores.
Being backed with top retail chains, our distribution costs are significantly lower as compared to many similar established companies.
Through Tech-led facililty, Verka Foods is building one of a kind food infrastructure thereby changing the dynamics of food processing sector. Set-up in partnership with the Food Processing Industries in Canada and India with our state-of-the-art packaging machines facilitates end-to-end food processing along the value chain (from sourcing, product development, branding and packaging) to create brands in categories that no one has invested so far.
We are a quality driven organization with a strong and well defined quality policy that takes care of sustainability and overall responsibility to customers, society and environment.
Equipped with world-class inventory handling and distribution system, our Surrey distribution centre is spread in 50,000 sq. st. in BC, Canada. Our distibution centre is located at 13025 80 Ave, Surrey, BC V3W 3B1. This is Verka head office as well!
This Facility is a home for several food products where Verka enables them to work through a single window system for all major retails. The vicinity of Surrey is surrounded by our loved ones whom we serve with our quality products and A+ service.
Our Distribution Facility is beneficial for Major retails like Walmart and Costco as it avoids the hassle of reaching out to multiple vendors and selling the products to single point of contact.
Delta warehouse is a ultra modern storage and packaging plant with trained management and sales personnel in transportation, warehousing, and logistics backgrounds — offering unique skill sets, but bringing the same, consistent passion and commitment to each of our clients to deliver best on time. This packaging plant with footprint of 30,000 sq. ft. and SQF certification located at 8187 swenson way, BC, Canada with in-house packaging of sugar, rice, oil commodities lentil, flour and spices.
Verka Dairy products and ingredients are sourced and packed within Canada. This facility has a footprint of 7000 sq. ft. located at 15336 67th Avenue Surrey BC Canada. Here packaging of Verka Dairy Products take place with proper hygenic environtment and Canadian Health and Safety guidelines. The Verka Dairy has been CFIA certified along with ultra-modern equipement.
Our Surrey Warehouses is in a footprint of 15,000 sq. ft. and is located at 13055 80th Avenue, Surrey BC, Canada. The diversity of our product and digital warehouse supply chain management makes us a strong partner for a diverse range of clientele. Our close proximity to manufacture and deliver across the country, combined with our deep experience in quality control, "customer-first" responsiveness, and agile solutions to ever-changing markets, gives us the edge over the competition. Here at this warehouse stores Verka stores all non-food products such as utensils, disposables and housewares.
Our Toronto Distribution Center is located at 2774 slough street, Mississuaga, ON, Canada. This distribution center ships dry groceries, perishable groceries, along with other specialty categories to our consumers daily. Toronto distribution center supports 100 to 150 stores in a 500+ mile radius plus Direct to store delivery within Ontario.
Verka Deliver products to and from distribution centers of almost all big retail chains with skilled staff of truck drivers. Our team of drivers always make sure of Purity, Quality and Value with  safest fleets within Canada.
The freezer is for the Verka Frozen Products with the footprint of 5000 sq. ft. located at 18795 24th Avenue Surrey, BC, Canada. Here we have the finest facility and staff to maintain the quality and temperature chain of our frozen products.
Our freezer warehouse facilitates all of our products at required temperature to  maintain the quality of the food and retain the same nutrients.
Our power to advance supply chain management and digital science allow as make the most of the warehouse space, carrying out proper management of the products and their tracebility, and minimizing energy expenditure.
Verka Bake their Own Bakery product at q facility with a footprint of 15,000 sq. ft. at 1075 Lorimer Drive, Mississuaga, ON, Canada. Here we bake , pack and delivers a variety of Cookies, Cream Rolls, Cakes and so much more.
Verka is committed to the expansion of its authentic bakery taste to everyone and maintain customer demand for all of bakery items. Verka continuingly invest in purity, quality and value to prioritize and support our growth, innovation capabilities, and supply capacity, with the ultimate goal of ensuring our customers gain competitive advantage and achieve success.
Verka Quality and Health Safety
Verka Foods was founded on a simple idea: Purity, Quality, and hi-Value. This belief, developed in the midst of a fast changing consumer economy in Canada, created a new kind of consumer organization that combines a wide portfolio of brands in food with the country's pioneering modern retail network. The group's presence across the value chain in these consumption categories gives it a unique ability to influence consumption patterns, benefit from front-end data flowing through its supply chain and sourcing networks, and operate with the highest potential margin in these categories.
QUALITY & ASSURANCE
Quality consciousness is imbibed and inculcated into our procedures, systems and the operations. We have done investments in high-tech testing equipment and trained Quality Assurance professionals.
Manufacturing
The food processing industry forms an important segment of the Canadian economy in terms of contribution to GDP, employment, investment, and is a major driver for a country's growth. With existing robust set-up of manufacturing units, we are expanding our foothold in Canada and abroad.
Equipped with modern technology and large capacity of production, the well-streamlined business of Verka Foods allows the company to source best quality raw material, create favorable storage conditions and subsequently retail the product straight to consumers.